Hello my dear friends, today I want to share my favorite places with you and give you some recommendations for your stay in Warsaw.
Łazienki Park & museums in the park
Royal castle in old town
Wilanów Palace
Museum of illusions
Poniatówka  Beach
Vistula Boulevards
 Mr. Pancake
Manekin
Teatro Cubano
Hala koszyki
1.Łazienki Park & museums in the park
This park is nice on every season. My first visit to park was in October and since then I have been enchanted by its beauty. During fall, I was going there few times a month, walking in yellow leaves and thinking about my new exciting life. Except beautiful leaves, Japanese garden, small river and small ponds, you will see breathtaking museums, statues all over the park and my fav part of this park – animals! For animal lovers like me, this park is the best option, cause you can take some nuts and feed squirrels who are very friendly. You can even touch their hands!!! They are so fluffy and cute, running around, going to you and wanting your attention! You can also see and feed peacocks, ducks and swans . Trust me, you won't regret going there.

At the heart of the park is the summer residence of the last king of Poland – Stanisław August Poniatowski. The name of the complex comes from the seventeenth-century bathhouse of a Polish nobleman, rebuilt in the 18th century into a palace. Today it is a museum where you can admire paintings from the royal collections. In the grounds of Łazienki you will also see an orangery, an amphitheatre, a court theatre, the Museum of Hunting and Horse-riding, the Myślewicki Palace and numerous free-standing sculptures.
Museums are free on every Friday from 10:00 -16:00
2. The Royal Castle in old town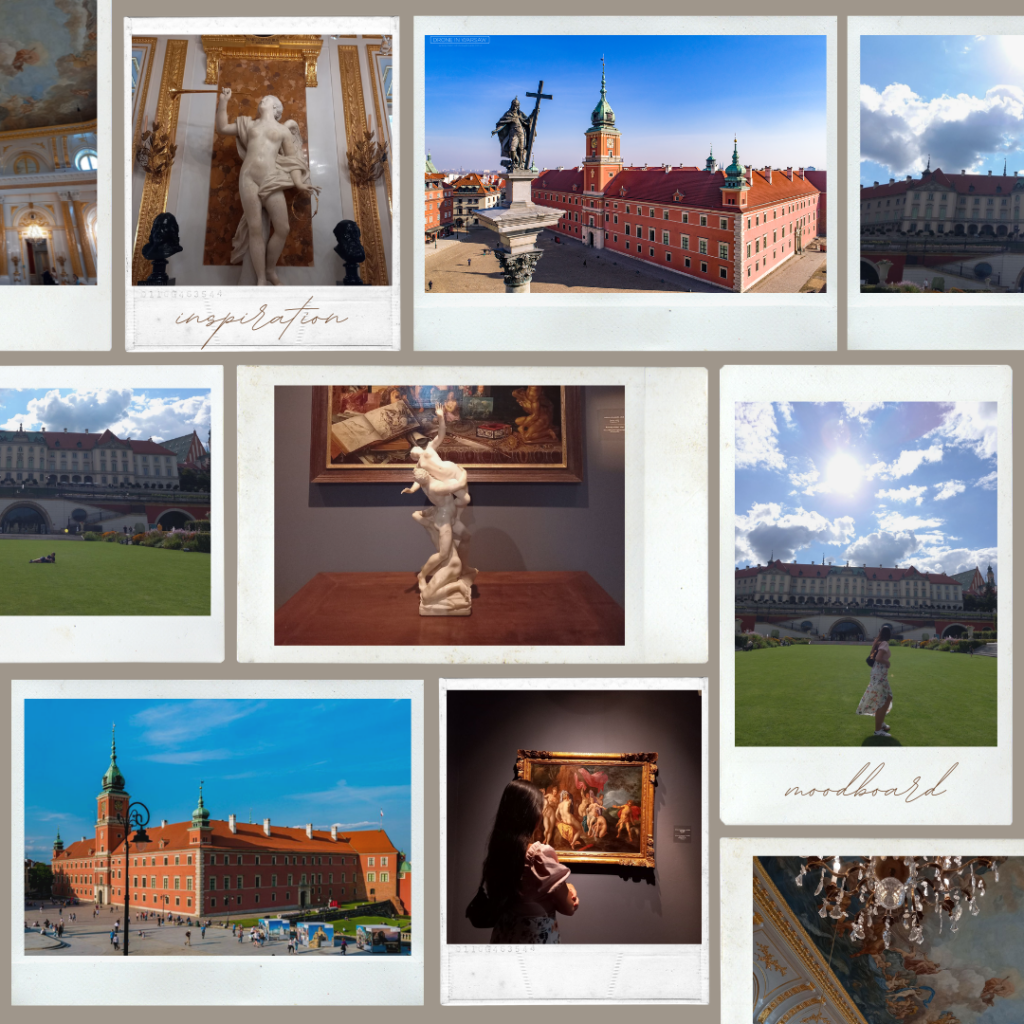 The Royal Castle in Warsaw (Polish: Zamek Królewski w Warszawie) is a royal residence that formerly served throughout the centuries as the official home of Polish monarchs. The personal offices of the king and the administrative offices of the royal court were located in the Castle from the 16th century until the final partition of Poland in 1795.
There are few exhibitions in the palace, which you can enjoy. The museum has big garden, where you can chill, lay down on the grass during warm weather, read a book or just spend time with friends. Entrance is free for garden. To museum it's free on every Wednesday from 10:00 – 16:00.
3. Wilanów Palace (Royal Garden of Lights – Willanow Palace)
Wilanów Palace survived Poland's partitions and both World Wars, and so serves as a reminder of the culture of the Polish state as it was before the misfortunes of the 18th century. The exposition consists of two parts: on the main floor you will be able to see the royal apartments of the palace. Rooms where parties took place, chambers where they met guests, and where they worked/rested. On the first floor there is the Gallery of the Polish Portrait, where you can see the effigies of the Polish monarchs collected over the centuries, representatives of great magnate families,eminent artists and people honored by Poland.
This place is really nice in every season. A wonderful exhibition in the palace and exquisite, cozy garden with small lake. There is christmas light show during winter.
Entrance is free to museum and gardens on every Thursday.

4. Museum of illusions
This place is one of my favorite, cause you can not only go and see exhibition, but also take part in it. It's a nice place to have fun with friends, take beautiful and funny pictures and enjoy your stay in Warsaw. The rest you have to see with your own eyes. Entrance fee is a bit expensive, but you shouldn't mind, cause you will have a nice experience there.
5. Poniatówka beach
On every spring, when warm weather arrives all people from Warsaw go to Poniatowka beach next to Vistula river and spends time with friends and family. There are few opportunities to have fun, except just chilling, listening to music and spending time with friends, you can also use hammocks, BBQ places, volleyball courts, a playground for kids and a cafe/bar.  You can also go into water, but I don't recommend, since the water isn't really clean.

6. Vistula Boulevards
On the other side of river, there is special place to spend time with your friends and it's called Vistula boulevards. It's generally long rows of stairs, where you can sit and chill, or enjoy time in cafe/bars next to it. There are other places next to boulevards as well, Copernicus Science Centre, the Museum of Modern Art, and the Multimedia Fountain Park, where at the summer weekends (Friday-Saturday) water, light and sound shows take place – after sunset you will see an amazing spectacle on the water screen: lasers, animations and music that create a colourful spectacle.

7. Mr. Pancake
Time to talk about food !!! This place has amazing pancakes as you would understand from the name, but also tasty pizzas and drinks. It's a bit expensive place than other cafe/bars but it's worth to go there at least once.

8. Manekin
Cheapper option of Mr. Pancake with tasty crepes and pancakes. Prices are normal, place itself looks nice, so you can enjoy your meal, drinks and pictures as well. I guess that's why there are always queues in front of this restaurant, but don't be scared, you won't have to wait too long and it's worth to experience. hahah.
9. Cubano
If you like night life and latino music, you should go to this club. The place looks nice, has cheap Cuba libre and it's free during weekdays, except Friday and weeknd.
10. Hala Koszyki
One of my favorite place to spend evenings with friends. It's  a big renovated market hall for trendy restaurants & boutiques, street food & cultural events, so you can always find meal/drinks  of your taste. You can even bring your own drinks (shhh, don't tell anyone) board games or card games and have fun.
I hope this blog will help some of you and you will enjoy all this places as much as me and my flatmates did !
Have fun,
Khatia xoxo